Naomi (Allsebrook) Miller
Honourary Membership received April 8, 2010
Naomi Allsebrook Miller's special contributions not just to history of nursing but to all history in British Columbia have earned her many honors, including the prestigious provincial recognition the B.C. Heritage Award. A 1951 Nursing graduate from UBC, when she and her family settled in the mountainous eastern B.C. area, she began working with local historical societies. She then served as president of the B.C. Historical Federation and for 10 years as editor of its professional journal. She served as a member of the B.C. Heritage Minister's Advisory Committee and a Director of the B.C. Heritage Trust. She was a founding Director of the Friends of Fort Steele Society and her writing career includes the book Fort Steele: Gold Rush to Boom Town. Determined to bring to light stories of nurses from outside the province's Lower Mainland and Capital District areas, she has written widely on nurses and nursing in B.C.'s eastern and central areas.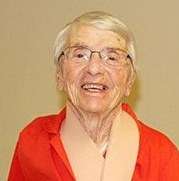 In 2017 Naomi was recognized by the Regional District of East Kootenay (Electoral Area E) as Volunteer of the Year. For more than 35 years she has been a volunteer in the Wasa area and has worked tirelessly to preserve the history of people, places and events locally and right across the province, leaving a legacy for future generations.
In 2019 Naomi was selected to receive the UBC School of Nursing Centenary Medal of Distinction. The award was established in celebration of the School's one hundred years of university=based nursing education.  Medal winners have brought high honor to the School or to the profession of nursing.