We are pleased to nominate Kathy Murphy for an Honourary Membership with the British Columbia History of Nursing Society. Kathy held the position as President of BCHNS for 14 years [ 2009-2023].
Kathy was part of the Task Force Group that transitioned us from Professional Practice Group of the Registered Nurses Association of BC [RNABC], later CRNBC, to a Society in 2008.  She was always involved in ensuring the bylaws were up to date and conforming to the Societies Act.  Kathy took on the Presidency at a time when it was becoming increasingly difficult to fill the position.  Her commitment to leadership in the BCHNS was commendable.
Kathy graduated from Vancouver General Hospital School of Nursing [VGH] in 1965 and then worked one year in general surgery at VGH.  She then headed east to pursue her Bachelor of Nursing at McGill University graduating in 1968.  Upon graduation she was hired as a Surgical Instructor at St. Paul's Hospital School of Nursing. Due to the School's plan to close in the early 1970's a number of faculty were chosen to fill some newly created positions in the hospital. As a Clinical Coordinator, she helped with the transition in nursing leadership before returning to school in the mid 1970's to obtain a Master of Health Sciences at McMaster University [1978].  Kathy then took a senior nursing position at Richmond General Hospital, retiring after 10 years. During her career she was active in the RNABC, the Nurse Administrator's Association of BC, the Registered Nurses Foundation of BC [RNFBC], the VGH Alumnae and BCHNS.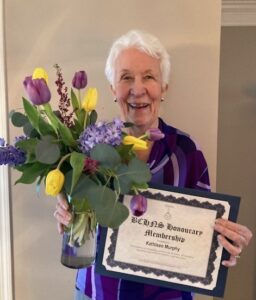 Among Kathy's Awards are:
RNABC 1990 Award of Excellence in Nursing Administration
Recipient of the UBC School of Nursing Centenary Medal of Distinction [2019], which was established in celebration of the School's one hundred years of university-based nursing education.
Kathy's dedicated efforts on behalf of the BCHNS will continue to strengthen nursing history and honour its past.
Nomination written by Lenore Radom, VP BCHNS on behalf of the Board & members.