Helen Shore
(1925 - 2020)
Honourary Memberhip  received  April  5, 2001
Helen Shore is a founding member of the B.C. History of Nursing Society, serving as the first vice president and two terms as president and past president.  Her dedication to the preservation and recognition of British Columbia nurses led to the creation of the BC Memorial Book.  Early on Helen had a dream of a   "Home of our Own" – a museum where the history of BC nurses could be preserved.  She has published several excellent historical nursing articles which promote the contributions nurses have made to health care in BC.  In addition to her dedication to history of nursing, Helen has donated numerous hours to volunteer work with The Vancouver Historical Society and various community groups particularly those whose aim is to improve the quality of life for seniors.  Helen has been described as a visionary leader who is respected and recognized for her contributions to the history of nursing.
Helen Shore received one of two "UBC Nursing Partnership Awards" -- given by the Director of the School.  Helen received it for all her support to students and researchers in public health and community nursing through the Helen Shore Endowment Fund -- and for recent new support for History of Nursing Advancement in the School.
In 2019 Helen was selected to receive the UBC School of Nursing Centenary Medal of Distinction. The award was established in celebration of the School's one hundred years of university=based nursing education.  Medal winners have brought high honor to the School or to the profession of nursing.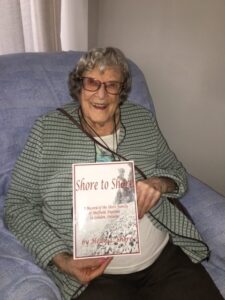 Helen Shore passed from our midst Nov 3, 2020  One of her last accomplishments was completing her book "Shore to Shore"   Helen was the last of the "Canadian Shores" and wanted to see the family memories preserved. Some of the stories in the book are about her relative Florence Nightingale.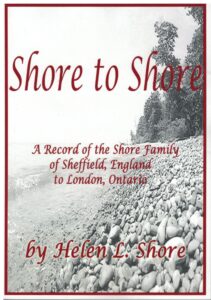 Photo Credit: Varun Saran vsaranphoto.com