Dr.Beverly Du Gas,  a founding member and the first President of the BC History of Nursing Professional Practise Group, now  Society, suffered  a  severe  stroke  mid  November  and  died  on  November  22nd.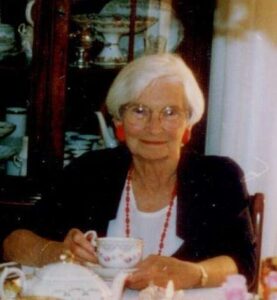 Until  about  a  year  ago, Beverly  regularly  attended  our  meetings & events,  despite  her  many health  challenges.  In April 1998 Beverly was given Honourary Membership Status in the BCHNS for her outstanding & continuous support of the BCHNS.  Beverly's children honoured her career on her 80th Birthday by sponsoring a portrait doll in the RNABC Memorial Doll Collection, which can be viewed at the CRNBC Library and on this website. 
We honour & recognize all Beverly's accomplishments, we will all miss her and her unfailing desire to contribute ideas.
We extend our heartfelt condolences to her family.
A service will be held at St.Faith's Anglican Church Vancouver, Saturday Dec 1,2012 at 10:30 a.m.  Donations can be made to the Church or to the UBC School of Nursing Scholarship Fund.