It is with deep sadness that we share news of the passing of Verna Huffman-Splane, one of Canada's most noted nursing leaders and an honorary life member of  BCHNS. Verna died early Saturday, January 10, just weeks after her 100th birthday.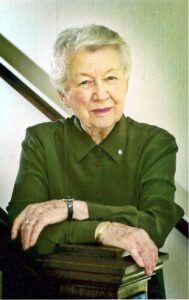 Verna was an icon of nursing and a mentor to hundreds of nurses all over the world. After a career in public health, including short stints with the World Health Organization, she joined Health and Welfare Canada, becoming Canada's first federal principal nursing officer in 1968 until 1981; she was the first nurse to be a key advisor to the deputy minister of health. During this time, she married Dr. Richard Splane, a social worker by profession who had served with National Health and Welfare in Ottawa from the 1950s to the early 1970s, becoming widely known as a chief architect of public social policies, such as the Canadian Social Assistance Plan. Their strong interests in international health and social welfare led to work with a number of non-governmental agencies, including UNICEF and the International Red Cross.
Following Verna's retirement from Health Canada, they moved to Vancouver, where Dick became a distinguished UBC academic advisor on social policy in the department of social work. Verna took on many short term appointments with the World Health Organization, the International Council of Nurses, and the International Red Cross. She also became a strong supporter of history of nursing and for many years was an active participant in BCHNS. Together with her husband, she wrote two books including the internationally acclaimed Focal Points for Nursing Leadership (1994), an historic, world-wide study of the role of senior nursing position in national ministries of health.
Verna was recipient of numerous awards including the Order of Canada (Canada's highest award), the Jeanne Mance Award (CNA's highest honour), and several honorary doctorates.
 submitted by Glennis Zilm
---
The memorial service for Verna will be on Sunday, January 18th 2015 at 1:30 PM at University Hill Congregation, The Chapel of the Epiphany, 6030 Chancellor Boulevard, Vancouver, BC.  For directions go to http://www.uhill.net/directions
In Memoriam tributes to Verna can be found on the ARNBC website www.arnbc.ca, and on the UBC School of Nursing web site http://www.nursing.ubc.ca/News/NewsItem.aspx?id=385.
Verna's remarkable career path and accomplishments are detailed in the obituary posted in the Globe and Mail  http://v1.theglobeandmail.com/servlet/story/Deaths.20150114.93355196/BDAStory/BDA/deaths