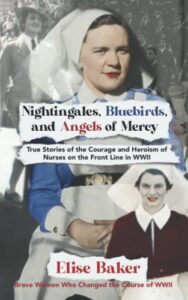 Jessie Lee Middleton passed away peacefully on May 22, 2019, at the age of 102. The youngest of 12 children, she was born and raised on the family farm in Murrayville BC. She entered the nursing program at the Royal Columbian Hospital and graduated in September of 1939 just one day after Canada declared war on Germany. Eager to serve her country, Jessie joined the Royal Canadian Army Medical Corps in 1942 and nursed injured soldiers both in Canada and England. She considered this work as "the greatest privilege for me."
A recent book by author Elise Baker highlights Jessie's life and wartime experiences and her picture wearing a Bluebird uniform is featured on the book cover. In Nightingales, Bluebirds, and Angels of Mercy (October 2022) the author tells true stories of the courage and heroism of nurses from the United States. United Kingdom, Canada and New Zealand who served on the front line in WWll.
These stories of nurse's courage, bravery and heroism are truly inspiring and will not be forgotten.