Trinity Western University School of Nursing is hosting a networking café for nurses to get together in a collegial environment to discuss topics of interest.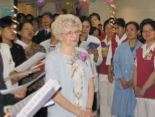 The April speaker is Susan Martens Kehler who has an inspiring history to share about her years at the Mennonite Christian Hospital Nursing School Taiwan (1957-1980). Dr. Sonya Grypma will offer a commentary on the relevance of nursing history to the nursing profession of today.
For further information, directions and parking information RSVP to Guelda.Redman@twu.ca, by April 3, 2015 or call 604-888-7511, local 3239.