The BCHNS received the sad news of June Newton's passing at the age of 96, on October 21st in Burnaby.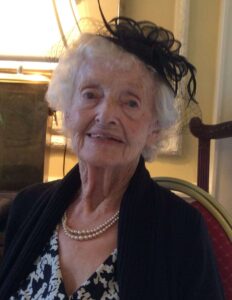 June was a Military Nurse in WW2 after graduating from Royal Jubilee Hospital in Victoria in September 1941. She kept an active role with the Military Nurses and always participated in the Vancouver Remembrance Day ceremony, often the one laying the wreath for the Military Nursing Sisters. June became a BCHNS member when the local group of Military Nurses disbanded.
June was the first nurse to receive the "Recognition Award" given by the BC History of Nursing Society for having made a significant contribution to the history of nursing.
To learn more about June's career and her life in the military visit the History of Nursing News: Volume 20 Issue 2 July 2009 and Volume 22 Issue 1 March 2011, on this website under "Resources" & "Newsletters".
The Memorial service will be on THURSDAY, NOV 26 at 11:00 a.m.  It will be held at Oakridge United Church on 41 Street east of Cambie Street, formerly known as St Giles.
Look for an announcement with details in the Sun and Province newspapers on the weekend before.