The BCHF Annual Conference was held in Chilliwack with the Theme  "Land, Water, People"
Glennis Zilm, Kathy Murphy and Nan Martin were delighted to represent our society at this very successful conference in Chilliwack.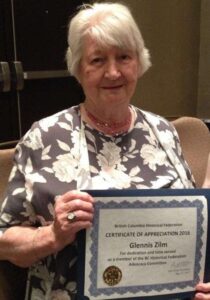 Events included an inspiring Keynote Address by Dr. Gwen Point and an evening presentation of Grand Theft Terra Firma attended by The Honourable Judith Guichon, Lieutenant Governor of BC. Concurrent events included fascinating presentations by historians, bus tours, and an excellent "Awards" banquet where our own Glennis Zilm received an Award of Appreciation for her service to the BC Advocacy Committee.