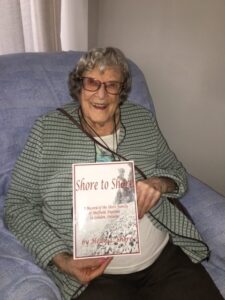 We are saddened to learn that Helen Shore has died at the age of 95. A graduate of the Vancouver General Hospital School of Nursing and the University of British Columbia she enjoyed a long and productive professional life embracing many fields of nursing.
We remember her many contributions to the BC History of Nursing Society. She was a founding member, serving as the first vice president and two terms as president and past president. Her dedication to the preservation and recognition of British Columbia nurses led to the creation of the BC Memorial Book. Early on Helen had a dream of a "Home of our Own" – a museum where the history of BC nurses could be preserved. She has published several excellent historical nursing articles which promote the contributions nurses have made to health care in BC. In addition to her dedication to history of nursing, Helen donated numerous hours to volunteer work with The Vancouver Historical Society and various community groups particularly those whose aim is to improve the quality of life for seniors.
Helen was a visionary leader, respected and recognized for her contributions to the history of nursing. During her lifetime she received many awards and honours, the most recent being the UBC School of Nursing Centenary Medal (2019). That same year Helen completed and published a family memoir (Shore to Shore: A record of the Shore family of Sheffield, England, to London, Ontario). Helen was the last of the "Canadian Shores" and wanted to see the family memories preserved. Some of the stories in the book are about her relative Florence Nightingale.
Here is Helen's obituary.