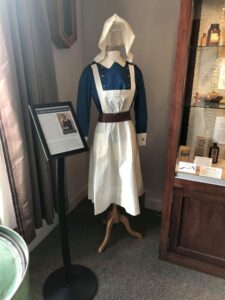 Lynette Harper, a niece of Dr. Helen Mussallem, recently contacted us to let us know that one of her aunt's WW2 nursing uniforms was on display at the Maple Ridge Museum and Community Archives.
The Museum's curator (Shea Henry) shared pictures of the displayed uniform and the accompanying mini biography.
Dr. Mussallem is Canada's most decorated and beloved nursing leader who had a special place in her heart for the history of nursing. She is one of our esteemed Honourary Members and supported the BC History of Nursing Society since its inception.