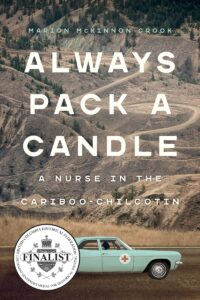 On June 4, 2022, the BC Historical Federation announced the recipients for the 2021 Lieutenant Governor's Medal for Historical Writing at the BCHF annual conference. The award recipients were chosen by a three-member panel of judges from 24 books published in 2021 and submitted for the competition.
The Community History Book Award, worth $500, went to Always Pack a Candle: A Nurse in the Cariboo-Chilcotin by nurse author Marion Crook and is the story of Marion's nursing experience and adventures in the Cariboo-Chilcotin area of British Columbia in the 1960's. Published by Heritage House in April 2021 the book has been on the BC Best Sellers List for many months.
To read a review written by BCHNS member Linda Quiney and published in our Spring 2022 newsletter on page 14 click here.
February 2023: Marion received a BC Arts Council Award to further her research for the sequel to Always Pack a Candle. The money will allow her to visit the Williams Lake museum and view the archives of the weekly newspaper. Marion plans to finish the sequel in 2023 and published in 2024.