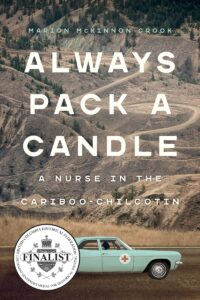 On June 4, 2022, the BC Historical Federation announced the recipients for the 2021 Lieutenant Governor's Medal for Historical Writing at the BCHF annual conference. The award recipients were chosen by a three-member panel of judges from 24 books published in 2021 and submitted for the competition.
The Community History Book Award, worth $500, went to Always Pack a Candle: A Nurse in the Cariboo-Chilcotin by nurse author Marion Crook and is the story of Marion's nursing experience and adventures in the Cariboo-Chilcotin area of British Columbia in the 1960's. Published by Heritage House in April 2021 the book has been on the BC Best Sellers List for many months.
To read a review written by BCHNS member Linda Quiney and published in our Spring 2022 newsletter on page 14 click here.