"ALZHEIMER'S: YOU SAY GOODBYE AND I SAY HELLO"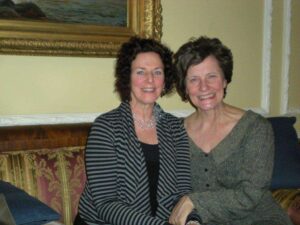 On  March  22  at  Hycroft  Mansion,  History  of  Nursing  members  and  guests  enjoyed  a  memorable  and  sensitive  performance  of  a  lyrical  memoir  titled  Mind  and  Memory: You  say  Goodbye,  I  Say  Hello.  Actors  Cathie Borrie (daughter)  and  Patti  Allen (mother),  portrayed  the  "spiritual,  emotional  and  intellectual  revelations  made  possible  by  a  mind  transformed  by  Alzheimer's".
Delicious refreshments & silent auction were enjoyed by all.
Cathie  Borrie  is  the  author  of  the  book  "The Long Hello" available at: www.cathieborrie.com