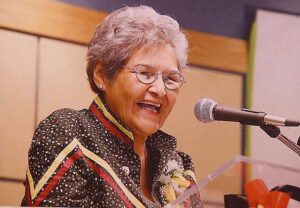 We think you will enjoy reading this touching and amazing story about one of Manitoba's first indigenous nurses. Ann Thomas Callahan spent 14 years in residential schools and after pursuing more education, became one of the first First Nations nurses in Manitoba. The following article tells of her remarkable nursing career filled with challenges and personal rewards. In 2007 a building at the Health Sciences Centre in Winnipeg was named in her honour.
http://www.cbc.ca/news/indigenous/ann-thomas-callahan-indigenous-nurse-manitoba-1.4577447
BCHNS members Lydia Wytenbroek and Helen Vandenberg contributed more information on First Nation's nurses.
Historian and author Mary Jane McCallum has written about indigenous nurses in her book Indigenous Women, Work and History, 1940-1980
https://uofmpress.ca/books/detail/indigenous-women-work-and-history
An online document by the same author provides even more information.
http://www.arnbccommunitiesofpractice.ca/ahnn/wp-content/uploads/2017/02/Twice-As-Good_A_History-of-Aboriginal-Nurses.pdf